Email marketing strategy is an important part of any lead generation strategy. As we all know, email is a most cost-effective way to promote your products, communicate with customers and reach business goals. On average, for every $1 you spend on email marketing, you can expect a return of $43 (up from $40 in 2017).
One of the few steps towards higher sales and revenue in email marketing is to gain email opens and link clicks. According to the Epsilon Email Institute, automated email messages generate a 70.5% higher open rate and a 152% higher click-through rate than standard marketing messages.
However Email marketing strategies have changed over the past few years. Yet it is still a key player for small companies to generate successful leads.
Konnektors will share the best email marketing strategies you can use to achieve extraordinary results through email marketing:
Personalize your emails
When we say "personalized", we don't mean that you send an individual email to every subscriber. Personalization means that you use customer data to create a personalized message.
Email marketing personalization involves the sending of marketing emails custom-tailored to the personal characteristics, preferences, and past behavior of a subscriber (or group of subscribers).
Starting your subscriber emails with "Dear [First name]" instead of "Dear valued customer" can make a ton of difference. Something as simple as a personalized greeting can offer a six-fold increase in transaction rate, but 70% of brands still fail to personalize their emails.
Take your personalized emails a step further, and you can customize your call to action (CTA). Focus on understanding buyers and how their roles fit within their organizations. For example, a marketing director and a technical director may have entirely different goals and perspectives when they open up your email. If you offer a unique CTA for the two groups, they are more likely to engage with your email and more likely to convert.
Audience Segmentation
You're hosting a networking event for small business owners located within a 20-mile radius.
How can you expect to get the best turn out for your event?
The answer is segmentation.
Audience segmentation is a process by which a brand's marketing audience is divided into subgroups based on individual criteria, such as past behavior, demographic data, and purchase history.
The best way to get small business owners to turn up to your event would be to create a segment of people who list themselves as a small business owner that lives within 20 miles of your event and then send them an invitation by email. The segmentation part is simple and can easily be done through a CRM software.
HubSpot found that all key email marketing KPIs perform better when you segment your email list.
The segmentation results include increased performance in: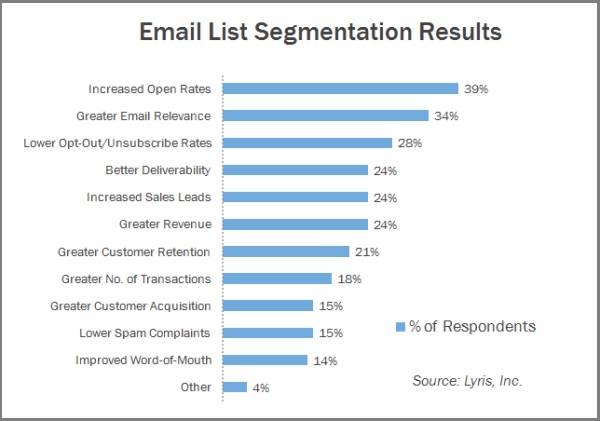 If you segment your lists, you get better open rates, revenue, leads, transactions and more customers.
So, here are a few examples for you to get started with segmentation:
Do you offer services and products to businesses or consumers? Knowing the industry of your subscribers is a great way to segment your email campaigns. For example, a business that sells car parts would engage at a much higher rate if they receive email campaigns on car products, compared to a business that sells software.
Segmenting email campaigns by company size or annual revenue is a great way to increase response rates. A small business that employs 5 people is unlikely to be ready for the biggest industry conference of the year, whereas a business that employs 750 people might be a better fit.
Early stage buyers will not be ready for an aggressive sales pitch or one-to-one demo but, they will be more appreciative to receive an industry research white paper. On the other end of the cycle, buyers who are ready to buy will respond well to product webinars or free trial offers.
Interactive content
With all the pings, alerts, and beeps vying for customers' attention, the average human now has an attention span of eight seconds—less than a goldfish. This makes it more vital than ever to include interactive content in your campaigns.
Rather than simply providing information, links, and media in a marketing email's content, interactive content provides the subscriber with visual, easy to use, and (ideally) fun tools to interact with within the email body. Interactive content can include satisfaction surveys, scratch cards, menus, videos, GIFs, and polls. All are designed to capture and maintain subscriber interest.
Here are some interactive content that can be included in email:
Infographics: This is one of the most shareable forms of content, plus humans are highly visual creatures. Visuals also help your recipients quickly understand what the point of the email is. On average, companies that use infographics have 12% traffic growth over those that don't—one company even reported a 756% increase. When creating an infographic, tailor it to your audience, make it simple, and offer value.
Video: Recall how humans have attention spans shorter than a goldfish? The higher the customer is in the lifecycle that it's targeting, the shorter the video should be. With 43% of consumers wanting more video content from brands, it might explain why landing pages with video see 80% more conversions than those without.
Surveys/polls/quizzes: Keep them short and select questions wisely to gain insight into your subscribers. Quizzes, in particular, are growing in popularity and have a 33% lead capture rate and a high chance of being shared.
Calculators: A calculator offers customers a lot of value with minimal effort on their part and instant gratification. Even a simple price calculator (e.g., "How much does it cost to buy a house?") can have impressive results: companies report lead conversion increases of more than 25%, plus a nice boost from social traffic. Offering a calculator as a call-to-action is a sign of your intent to solve a customer's problem and add value, boosting your brand image for customers who aren't ready to commit.
Images or custom font: Even spicing up a plain text email to include a GIF, background image, or unique font can help engage customers. Images, in particular, could earn the page up to 94% more traffic. Be sure text is legible and images are high-resolution—an unprofessional email is a fast way to send a customer running.
Responsive Design
Effective email marketing campaigns are designed for all devices on which users can read their emails — desktop, tablet, and smartphone. Email campaigns that are designed for mobile devices are especially important — a quality known as "responsive design." In fact, 67% of emails today are read on either a smartphone or tablet.
When you email to a subscriber who reads their emails on their mobile device, but the email is not optimized for that device, what do you think they do with?
Mostly, they will unsubscribe or delete it.
Yet on the opposite end of the scale, when email campaigns are optimized for mobile, they actually generate a lot of revenue.
According to Yesmail, the average revenue per mobile email is $0.40, which is almost 4x that of a desktop email click.And 55% of smartphone users have made at least one purchase after receiving a mobile promotional email.
Furthermore, a study found that 36% of B2B companies that have optimized their email campaigns for mobile devices saw an overall improvement to their email performance.
So, how do you optimize your campaigns for mobile devices?
Create responsive email design (RED). Creating a responsive email design means that the user experience is optimized regardless of the device or screen they use. Most email service providers (ESP) offer this solution within their email functionality.
Keep the subject line and pre-header short. The subject line is crucial. Keep it short so the reader knows exactly what the email topic is about. And the pre-header text (also known as snippet text), don't let it go to waste by using "To view this email in your browser…". Instead, summarize the email or include a call to action (i.e., Use "FREESHIP" to get free shipping).
Make the CTA big and obvious. Mobile device vary in size. While a text link may work on a tablet or larger screen, you might be alienating your readers who have a smaller screen (or bigger hands!) if your call to action is too small. Make the call to action, big, bold and simple to click.
Trigger Emails
Trigger-based emails are emails that are sent out automatically based on user behavior.  Behavior-triggered emails are marketing emails which are automatically sent to a subscriber when that subscriber performs a specific action in his/her interaction with a brand. For example, if a new customer subscribes to a mailing list or joins a loyalty program, they might instantly receive a "welcome" email. Behaviour-triggered emails are designed to keep the brand-consumer relationship progressing on a healthy course toward purchase.
Today, only 25% of marketers currently use triggered emails and they make up a low percentage of overall email volume, at around 2.6%. However, they can be responsible for as much as 20% of your email marketing revenue.
But setting up triggered emails is expensive and complex.  Well, It doesn't have to be. You can start by using auto-responders in your customer service software to replicate the automation aspect. That's what we do for all of our existing triggered emails and we're happy with it.
Here are some examples of trigger mails you can send:
Activation: A new user creates an account but, they do not use your product within the first 7 days. Create an "activation" campaign that sends an automated email with their login information, steps on how they can get started and include a video demonstration for additional support. You can also invite them to a one-on-one meeting to walk them through the product and answer any questions they may have.
Win-back: An existing customer is soon approaching the end of his yearly subscription. The customer hasn't used your product in 3 months and you need a way to win them back and keep them for another year. Create a "win back" email that sends an automated email to all customers that are coming to end of their contract with a list of new product features and a short plan on expected releases in the next six months.
Surprise: Customer loyalty is the key to success. And you can reward your loyal customers by giving them something for free every now and then. Create a "surprise" email that sends an automated email to your best customers that offers a free yearly license to your software for them to use, a gift card or even a coupon code to redeem a box of cupcakes. It's a small cost for your business but the reward is huge.
Conclusion
Email marketing strategies have the potential to be a strong revenue generator. But over time, It's no longer as simple as sending the same email to all.
Now it's time to update your email marketing strategies so that your customers will be more responsive, your campaign performance will improve and your business will continue grow.
If you are interested with our Email Marketing services, check the link and contact us for a free demo.