What is your greatest fear in marketing?

This blog will teach you how to turn marketing fears into success for the year 2021.
Uncertainty
Coronavirus has undeniably posed a significant threat to most businesses. 
In Statista's April 2020 report, 86% of B2B Marketers responded that there had been a delay in budget commitments and 73% answered that they had to pause a service or product launch because of the outbreak.
Due to Coronavirus, most marketers fear the uncertainty of the future. There is no doubt that it has affected most businesses, and would have to adapt until things get back to normal.
How to turn it into 2021 success:
To help face uncertainty, businesses should have a strategic plan. Evaluate what you should focus on and toss it aside. Determine the best way to spend your time and money for marketing initiatives.
Losing Audience
Having quality content is everything in marketing, primarily through social media.
In GoodFirms's 2019 survey, 79.37% of social media users unfollow a brand when they are no longer interested. It proves that having relevant, quality content is indeed essential for business audiences to stay.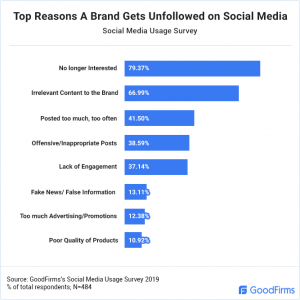 How to turn it into 2021 success:
Determine what your audience wants and focus on them. Keep up with the latest trends while maintaining your identity as a business.
You should also continue to engage with your audience, but do not post too often at the same time. Answering queries about your brand would help maintain a good relationship with your audience. 
New plans
If marketing does not go well as you hoped, suggesting new ideas and venturing out to the latest trends might help.
Although fear for new things is inevitable, it can help with marketing in the long run. 
How to turn it into 2021 success:
Build your confidence, and do not be afraid to try out new things.
In doing so, picturing out what the result would be like after months or years might help. It is also essential to do research before starting out a new plan.
Final Words
Facing your marketing fears can be challenging. However, you need to continue moving forward even with the situation today.
We encourage you to determine whether you are afraid of one of these fears and overcome them with our suggestions above to achieve success.