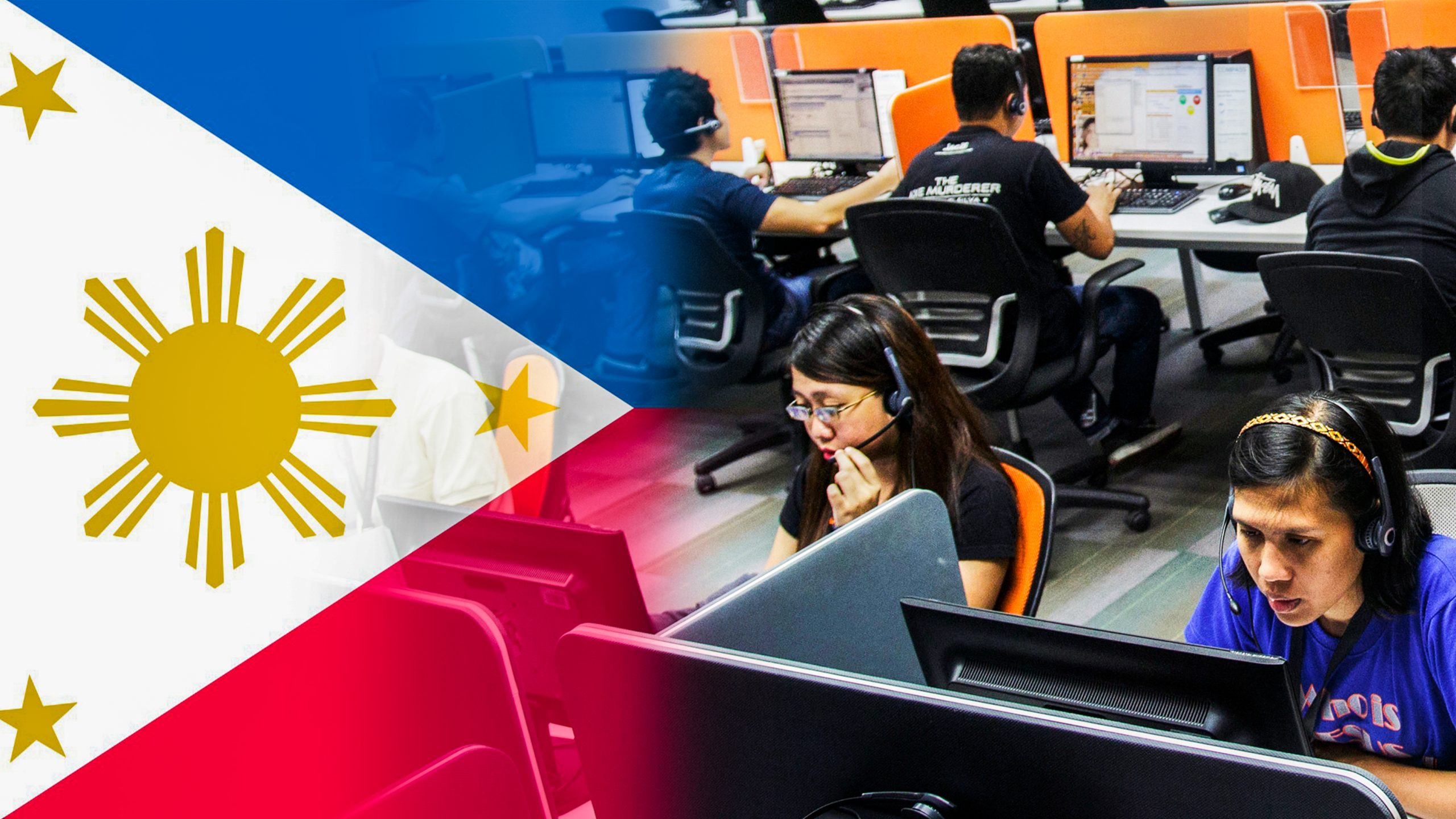 The Business Process Outsourcing (BPO) industry is one of the two primary sources of the Philippine economy. They contributed $26 billion in 2019. Over 1000 companies in the BPO industry employ 1.3 million people. It is a major contributor to the Philippine economy next to the remittances received from migrant workers. Currently, OFW's and BPO are driving the Philippine economy and indeed the country's pride in the global labor market.
The BPO industry has transformed from a niche sector that caters to multinationals to a widely-used service for small and medium businesses in the country. 
The growth has led to changes in the sector's profile: BPO services have diversified into areas like support services and consulting. More than 80% of BPO firms now have subsidiaries or joint ventures with other businesses that operate at more than one level of the value chain.
In addition, freelancing has become easier as a result of the rise of digital platforms. Rating systems and global competition have resulted in an industry that is highly competitive yet uncertain. On these platforms, there are an estimated 1.5 million Filipino freelancers.
In the Philippines, BPO workers have a wide range of work experiences. BPO jobs offer relatively high pay, working benefits (such as health insurance), and safe, air-conditioned working environments for employees. 
BPO Industry during the Pandemic
The COVID19 crisis has had a negative impact on almost all sectors around the world, with supply chains disrupted, country-wide lockdowns, and a sudden shift to remote working.
From March 16, 2020, the Philippines implemented Enhanced Community Quarantine, a nationwide lockdown. While some regions have relaxed this, urban areas, which are home to BPO offices, have been the hardest hit and are subject to stricter lockdowns. 
Even then, BPO is one of the few industries allowed to operate during periods of Enhanced Community Quarantine, demonstrating its importance to the country's economy and geopolitical interests. Quarantine restrictions, on the other hand, made it difficult for BPOs to maintain normal staffing levels, especially at the first few weeks of country lockdown. 
Still, the BPO industry's vulnerability to the effects of COVID19 increased despite its efforts to continue its services. In the following months, many BPO employees have been infected, and BPO offices have been identified across the country as community transmission hubs.
In smaller cities like Bacolod, this has resulted in public harassment and discrimination against BPO workers. OFWs who have returned home and have been linked to local outbreaks are in the same boat. Workers in BPOs and migrants are being recast as disease vectors, rather than national heroes.
The response of BPO companies is mixed. A lot of BPO companies resort to homeworking and sent IT equipment to workers' homes. However, it was unsuitable for many because the average Manila household has 4-5 members, poor internet connection, and surrounding noise have really affected calls. Other businesses also provided on-site housing to allow workers to continue working. This is a setup wherein companies provide employee accommodation, food, and transport.
Adapting through Covid19 
Like any other BPO industry around the world, BPO companies in the Philippines had to continue their operations to sustain the big industry and continue to support the economy.
Data security and the impact on productivity due to either inadequate infrastructure at employees' homes or a lack of supervision are two major concerns for BPO companies. Other issues include the poor quality of calls due to unwanted noises in residential areas where workers are working remotely; and the disclosure of personal employee information to clients. 
Because of that, organizations are taking a number of steps to ensure that contact center agents' productivity and quality are not harmed by working remotely. Many businesses relocated their operations to low-cost locations in order to reduce their risk exposure. Regular touchpoints with employees and periodic updates, as well as daily team meetings to review the status of work being completed using tools such as WebEx, Zoom, and Skype, are some of these measures. Companies also ensured that their remote workers received the right technology and internet allowances to ensure the quality of their work.
Furthermore, companies considered cloud-based work platforms. This technological leap enables the reduction of manual work and leads to work automation while boosting productivity and effectiveness.
The shift to multi-functional operations is a critical transition for BPO organizations in the Philippines, as it reduces the risk impact at one location where they can focus more on their macro operations.
Rising from the Ashes
Almost two years have passed since COVID19 started and lockdown restrictions across the country have already been lifted. Insiders in the digital health industry estimated that six months into the global pandemic that there's an equivalent of five to ten years of growth in digital health. 
COVID-19, according to industry insiders, has changed patient and healthcare provider perceptions of the acceptability of digital health interventions. The necessary cultural shift for digital health to thrive has occurred and as a result, there is a pressing need to consider the ethical implications of moving healthcare provision online such as online check-ups, hospital reservations, or medical assistance to make medical health providers overseas paving the way for workers from BPO industries ready. 
For that reason, the BPO industry in the Philippines is one of the key holders of this telehealth strategy for maintaining both COVID-19-related and non-COVID-19 care activities from clients all over the world.
While there are no guarantees that the shift to digital health will be permanent, the cost-cutting advantages make it a compelling option for any healthcare provider around the world to consider outsourcing in the Philippines. 
In addition, the BPO customer service became more in demand due to the lockdowns and remote working setup from overseas clients. The food servicing and IT customer supports demanded extra help from outsourcing companies to keep up with the demand for food, medicine, and grocery deliveries and the demand for better internet service. 
As a result, it paved way for the BPO industry to thrive, giving jobs to 23,000 new full-time employees under the 2020 applicable flexible working hours to sustain business operations in the midst of a crisis, according to a Manila Times article.
According to the Philippine Statistics Authority (PSA), the unemployment rate decreased from 10.4 percent in 2020 to 7.8 percent last year. National Statistician Claire Dennis Mapa said during a press conference that this equated to 3.7 million unemployed Filipinos in 2021, down from 4.5 million in 2020 and Labor Secretary Silvestre Bello III said during a Manila Times webinar that the BPO industry kept the employment rate in the Philippines stable amid the pandemic.
Labor Secretary Silvestre Bello III said during a Manila Times webinar that the BPO industry kept the employment rate in the Philippines stable amid the pandemic. 
The National Economic and Development Authority (NEDA), on the other hand, stated that the strong job creation in December 2021 indicates that the economy is slowly recovering from the pandemic. The participation rate in the labor force increased from 64.2 percent to 65.1 percent. As more high-quality jobs were created in the country, the underemployment rate fell from 16.7% in November to 14.7 percent in December.
"The BPO industry is one of our country's most important economic drivers, generating $26,700,000,000 in revenue," said Sec. Bello.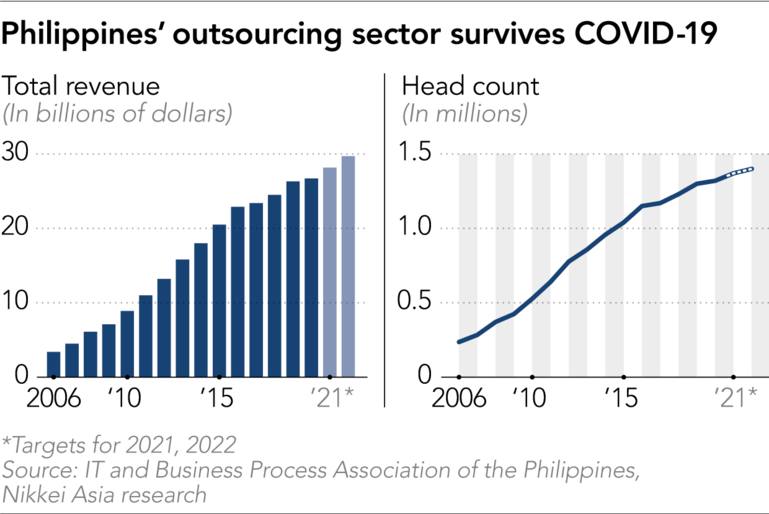 In light of the pandemic, this represents a significant increase of 1.8 percent over 2019, bringing the total industry employment to 1,320,000,000 people.
Sec. The DOLE, according to Bello, continues to provide unwavering support to the BPO soldiers as they continue to serve the country.
The Future is bright
So, after COVID-19, how will the BPO industry in the Philippines look? BPO will become more important than ever! 
Remote working has been extensively tested or implemented by BPOs in the past two years. So far, BPO companies together with the IT industry are promising a bright future.
According to a report by Research and Markets, the local data center market is expected to grow at a CAGR of 11.40 percent between 2021 and 2026. It is expected to generate $94 billion by 2027.
Many companies from other countries are considering outsourcing here in the Philippines to make their offices mostly remote because outsourcing and remote employment are ideal for creating safer workplaces. BPO also provides a cost-effective option for businesses that are rebuilding after forced spending and staffing cuts.
Konnektors is proud to be part of the BPO industry that gives people hope amidst the crisis. There may still be threats with the ongoing mutation of the virus. But the country is slowly getting back on its feet as foreigners and investors are re-entering to continue their business ventures. 
References
Soriano, C.R.R., Cabañes, J.V.A., 2020. Entrepreneurial Solidarities: Social Media Collectives and Filipino Digital Platform Workers: Social Media + Society.
https://doi.org/10.1177/2056305120926484