Email Marketing tools are essential for a business. It is a cost-effective way to increase brand awareness and to stay connected towards the audience. According to Statista's report, there are around 3.9 billion email users worldwide in 2019. Thus, it establishes the fact that email marketing is indeed vital for business growth and success.
Email Marketing Automation Tools are services that are responsible for sending a series of emails to your audience automatically. However, one might encounter some problems when using email marketing tools that are complicated and lack of analytic reports.
Thankfully, with Squaresent, they can be trusted in providing the best features needed for email marketing. Create an email marketing campaign that would boost audience engagement and business sales by availing in their services.
Why choose Squaresent?
Easy to use
Their interface is simple and easy to navigate. Suitable for users who are beginners in using an email marketing automation tool.
Create emails with a template builder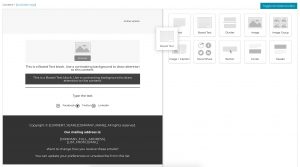 The important thing to consider when doing email marketing is the target audience. With a target audience in mind, a business will be able to construct an email that makes the reader interested to know more about it.
With Squaresent's template builder, a user can:
Grow Email Lists

Increase Email Conversions

Optimize Audience Engagement
Their template builder allows a user to drag and drop certain blocks in a particular position. It enables a business to construct the email content in a creative way that catches the attention of the audience. 
Get in-depth reports
Squaresent reports show you how well you're connecting with your audience.
One of the benefits of using Squaresent, is that a business gets to see what's working and what's not in their emails. They will show you a detailed report of how many who opened the email, unsubscribed, clicked, and more.
With this information, a business can analyze their audience behavior and learn about their interests. They can evaluate their performance and create a better plan for more effective email marketing in the future. 
Try Squaresent now
With billions of users who use email every day, there is no doubt that email marketing is an effective way to connect with potential customers. 
Sign up at Squaresent now for email marketing needs. Contact and visit their website for more information.