Everyone would probably say that the best time to open and read emails is first thing in the morning at work. Thus, most email marketers do email blasts during the morning peak hours.
To measure the success of your email campaigns, you need to know the number of people who open the mail and the number of people who click on a link (click-through rate). There's nothing wrong with that, what gets overlooked is that the click-through rate is entirely dependent on the open rate, because unless people open your email, there's no chance they can click on it.
Therefore, in order to get a better click-through rate, you need people to open your email.
But who waits until work to check their email these days? Today, many people start their workday first thing when they wake up using their phones. Perhaps this is why mobile email is checked 3x more compared to desktop.
So, how do you get more people to open your email?
There are lots of resources and data that will provide the answer. Most of them would say "It depends" which is really not helpful at all.
Don't worry because in this post, you're going to find the right information you need.
How do people read my email campaigns?
The way people read emails can provide key insights on how you create your email marketing campaigns.
For example, the type of device they read it on.
Marketers' can no longer ignore mobile and tablet devices. Every year, email open rates from mobile devices have grown by more than 100% since 2011.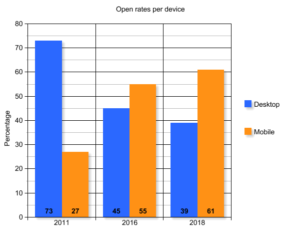 Today, 61% of all emails are now opened and read on mobile devices. Only 11% of email campaigns use responsive design to optimize their email layout and 20% of email campaigns are optimized for mobile devices.
You're on the right pace but at the wrong time
What is really the best time to send email?
Did you know that the average life of an email is below 48 hours only? So according to a research by Epsilon, it's important to choose the correct time of day when you're sending an email. Looking at recent studies, these are the specific days and times that most people open their mails:
If you're trying to reach business executives, Tuesdays and Thursdays are usually seen as the best response days in a week.
Let us look at these recent studies:
First, there's the one from MailChimp on the optimal email send time.When it comes to the best day to send email, they discovered that it was Thursday, which narrowly beat Tuesday. According to this graph, the best day of the week to send emails is on Thursday. There was actually very little difference between any of the weekdays, from Monday through Friday.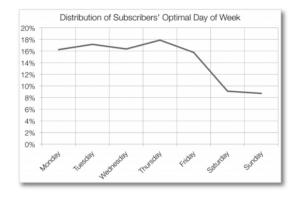 According to data from Experian, Tuesdays get the most emails opened compared to any other day of the week. However, Saturdays may also be a good day to send email for its high open rate.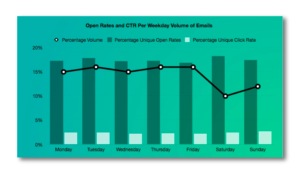 HubSpot found that Tuesday is the best day to send email, followed with a tie for Monday and Wednesday.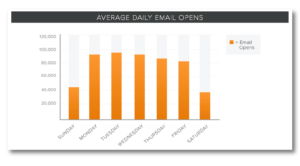 However, there is really no general consensus on the exact day of the week to send emails. The particular day of the week also doesn't make a huge difference in terms of open and click rates.
But it's important to not overlook some days of the week. Fridays are always overlooked when it comes to emails. But it may increase the chances of getting read since there is relatively little competition. If you're confident that your campaign won't ruin their weekend feels, you can go for Friday.
Don't forget about Mondays. Although everybody is very busy on a Monday, the response rates are over 45% at the start of the week because people do respond to emails on Mondays.
Weekends were the least popular days to send emails, and they also had the lowest open rates. Sending on the weekend was the least optimal day, with Sunday being the worst day to send emails. Which I believe is true, since most people would like to relax and spend time with family or friends. Weekends are getaway from work and stress with no interruptions. Therefore, most aren't hovering over their inboxes, which means a significantly lower open rate.
When is the Best Time to Send Emails?
The day of the week is just one part of having the best chances for your email to be read. You also need to be extremely careful of the hour you're sending the email. Before answering the question, you first need to know who you are sending that email to and the time of day when you send the emails.
While many of the studies found varying results, here is how you can prioritize your send times based on data.
While late-morning send times were the most popular in general, several concluded that the best time to send emails is at 10 a.m. Another notable time is 11 a.m.
You could also send emails at 8 p.m.-midnight.  It looks like emails generally receive more opens and clicks later in the evening. As Campaign Monitor notes, this is likely due to people checking their email before going to bed.
And it looks like it might be successful by sending emails later in the day around 2 p.m as people are checking out of work mode or looking for distractions.
6 a.m. is also one of the optimal time to send emails. I guess this makes sense since 50% of people begin their day by emailing in bed.
Take a look at the similarities in these graphs for a lot more detail on the analysis. According to Campaign Monitor's research, Morning between 9–11 a.m. is definitely the best time to send email and there is a peak at 10 a.m. Since 53% of emails are opened during the workday between 9 a.m.–5 p.m.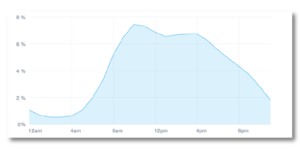 Back to the MailChimp study, the optimal send time peaked at 10 a.m. in the recipients' own time zones. MailChimp confirms with Campaign Monitor that sending emails later in the morning between 10 a.m.–noon will get you the most opens.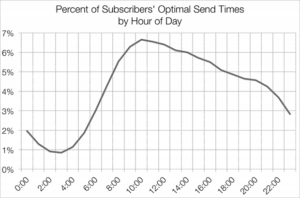 A different research by Wordstream suggests there may also be a peak in the afternoon, around 2 p.m.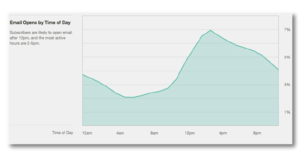 HubSpot suggests to send emails at 11 a.m. for the best results since open times to find late morning till noon tends to get the most opens.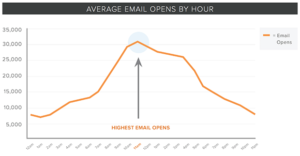 Dan Zarella's research, as analyzed by GetResponse, suggests 6 a.m. is a peak time to send emails, followed by late in the evening from 8 p.m.–midnight.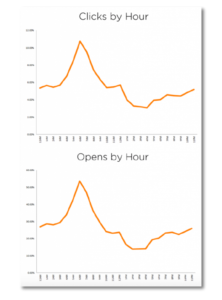 Important Note: Lunch-time emails should be avoided. People are generally busy and have different timings varying from 1 to 4 o clock. It is better to lay low during these hours.
CONCLUSION
While there is no one magic hour to send emails, you now know inboxes are constantly being scrolled throughout the week.
As you can see, the time and day when you send an email really depend on the type of campaign you're having, the type of content you're sending out and the audience you're sending it to. By following these simple rules, you should be able to increase your response rate and get more out of your emails.
Also, by combining your normal routine with a timezone email tracking services, you will surely be able to target the specific audience in the specific time frame on a specific date without having to do it all manually. Just set up the data in the app, get the email templates ready, paste in the addresses and you are good to go.
As a final note, remember to always try out new things and strategies. The internet, as well as the behavior of your prospects are constantly changing and remain unpredictable. Try to put yourself into their shoes and you'll have a better understanding of how to go by your daily email blasts.