One of the primary concerns of people towards reopening the school amidst the COVID-19 pandemic crisis is their health and safety.
More than 70 countries have announced their plans to reopen classes in recent weeks, a reason why there is a need for a technological solution that can assist schools in the reopening. That's why Ebooth has designed a configuration that can help schools during the pandemic.
What is Ebooth?
Ebooth is an application that aids businesses, companies, and schools.  It provides a safe environment for those people who will attend events and meetings amidst the current crisis. It helps to be consistent with the COVID-19 health response to protect people who will be visiting the area.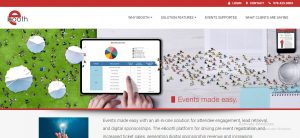 How Ebooth can help schools during the pandemic
Ebooth can be operated using a smartphone to:
Perform real-time health checks
Ebooth is now assisting schools in providing a pandemic checklist so that they can continue to provide a safe environment for the students, teachers, families, and other people that will attend the school location.
The pandemic checklist comes with a suggested list of questions. However, it is possible to modify it according to the school's needs.
The pandemic checklist can be:
Do you have a mask?

Did you take your temperature?

What was your temperature?

Do you feel well?

Is your throat sore?
Additionally, Ebooth can request information from a person about their recent interactions to ensure they haven't had contact with a person who has COVID-19.
Provides real-time updates
Ebooth monitors the health of each person who will attend school by recording the date, time, and GPS location based on the information provided.
A compliance and non-compliance spreadsheet are sent via email to the school organization responsible for the health and safety of those who attend school. The spreadsheet shows a person's response to the pandemic checklist and their interactions in detail.
Furthermore, the information provided can be used to trace your whereabouts in an event of COVID-19 outbreak.
Reduces fear and concern through technology
Although social distancing and preventive measures are important to take care of during the pandemic, Ebooth allows the school to keep an eye on a person's information that will reduce the risk of spreading the virus. 
With an application that helps fulfill stricter compliance requirements to ensure safety, this reduces the fear and concern of students and school employees alike when entering the campus.